Is your hospital at risk of airborne pathogens?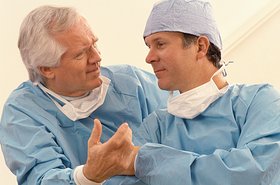 Airborne infectious particles are a potential source of hospital infections.

Patients by their very position have a weakened immune system. The combination of highly susceptible patients, intensive and prolonged antimicrobial use, and cross infection has resulted in nosocomial infections with highly resistant bacterial pathogens.

Drug resistant pathogens in the hospital environment result in hospital-acquired infections which are expensive to control and extremely difficult to eradicate.



What is MRSA?


MRSA stands for methicillin-resistant Staphylococcus aureus. There are varieties of Staphylococcus aureus that are resistant to methicillin (a type of penicillin) and usually to some of the other antibiotics that are normally used to treat Staphylococcus aureus infections.

Reported cross-infection risks to patients admitted to hospitals today are much higher with current epidemic strains of MRSA.

Air sampling can provide information that should inform infection control practitioners that the air quality is good enough for safe patient care because control measures are in place.



How safe is your hospital?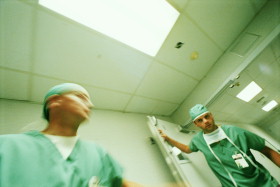 Does your hospital HVAC restrict air movement within and between various departments?



Do you use HEPA filters in your Operating Theaters?



Does the air flow from the sterile side to the dirty end to be exhausted?



Do you have adequate Isolation Facilities with suitably designed air pressure?



Have you tested the air quality in your hospital?

One common area of neglect when hospitals embark on an Infection Control program in the Operating Theater is the vital role of ventilation system. A properly designed ventilation system is able to control the flow of air from sterile to dirty area of the operating theater, minimizing risk of infection during a surgery.


---

Guidelines from Health Technical Memorandum (HTM) 2025, "Operational Management : Ventilation in Healthcare Premises".

1. Airflow Velocity Test-Nominal Room Air Change Rate
Minimum air change rate for Ultra Clean OT is 20 ACH

2. Airflow Velocity Test @ 3" Above Operating Table
Airflow velocity in sterile working zone to fall in the range of 0.1 m/s - 0.3 m/s

3. Room Pressurization Test
Positive pressure compared to outside environment

4. Bacteria Count
< 10 CFU/m³

5. Humidity
40-60% humidity



Johnson Medical Guided Airflow™


The Johnson Medical Guided Airflow Ventilation System is built in compliance to all the Ultra Clean Ventilation Systems requirements as stipulated in HTM 2025.

Johnson Medical has its own team of researchers and bio-medical engineers who are able to conduct CFD analysis for your OT.

We will be able to help you plan for an Ultraclean OT and make the necessary recommendations to ensure optimization of resources and enhance workflow for your surgical staff.



More info on Guided Airflow System