Fluid Management Pendant - FMP135D/S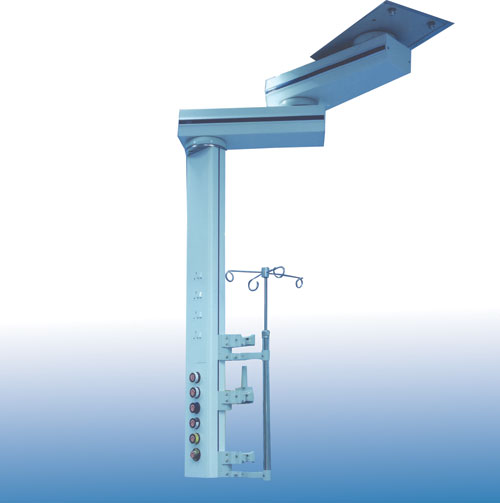 The system has been specifically designed for the anesthetists use in operating rooms.
It consists of a pair of servers (equipment and fluid side), providing all medical gas and electrical services, and facilitating equipment management.
The movable arm system allows it to be positioned at precisely where it is most convenient for the anesthetist.
Modular design allows flexibility and convenience during upgrading.
It can be configured to the exact requirements of each hospital.
It is equipped with adjustable trays for placement of monitors while the rail system allows support of ancillary equipment.
Drip stands are available to help relieve the frequent use of floor stands and trolleys in the OR. This greatly reduces the congestion normally seen in an OR where there are several trolleys around the OR table.
Incoming gas and electrical services are from ceiling to servers. This reduces cable clutter and results in a safer and neater workplace for the medical team.
"Off the floor"concept allows easy cleaning of floor area.
Ample access around patient is afforded with this ceiling mounted system.
Fluid Management Pendant - FMP135D/S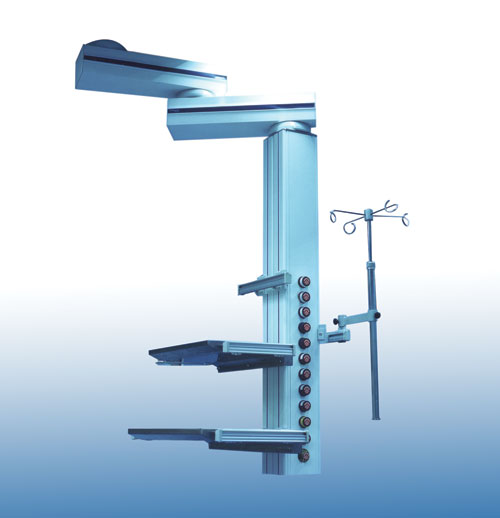 Multi Purpose Pendant 135 D/S is able to provide additional gas and electrical outlets to meet end users requirement.
The MPP serves as both fluid and equipment management, it contains rails and shelve to eliminate the use of trolleys.
The medi-rail system is able to hold detachable drip stands and accessories such as baskets and ancillary equipment.
The slim design of the MPP gives wider working space around the patients.
The MPP gives easy access to all services during maintenance and troubleshooting.
Slim Line Multi Movement Pendant - SLMP900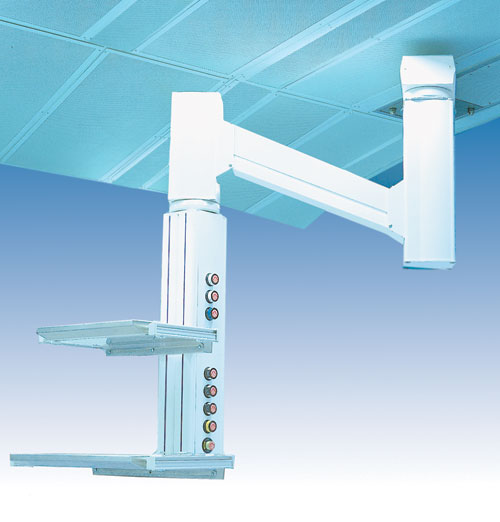 The Slim Line Multi Movement Pendant (SLMP) is based on ergonomic design concept to provide superior patient access and mobility.
The motorized SLMP can be raised and lowered by means of concealed linear actuator, which can be position at required elevation.
Its integrated system incorporates adjustable shelf, rails and detachable drip stands to reduce or eliminate the use of trolleys and allow for neater working environment.
SLMP is able to provide additional gas and electrical outlets to meet end users requirements.
The ceiling mounted design reduces the congestion in the operating room and provides ease for floor cleaning.
Surgeon Pendants - SP 060, SP160, SP260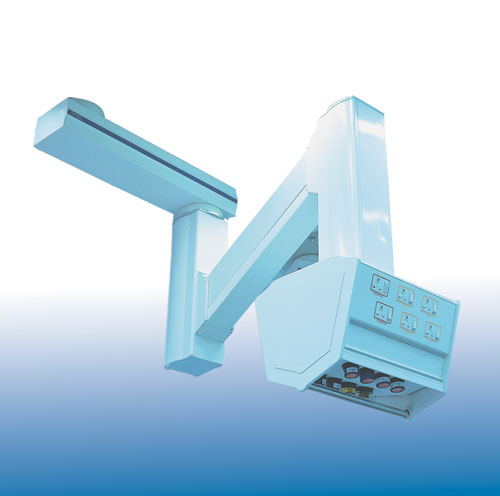 The Surgeon Pendant is specially designed to provide faster, safer and more efficient access to medical gases, AGSS and electrical services in the operating room.
Mounted on the patented OR 5000/3500 ceiling fixture, its modular configuration enables easy upgrading without major work interruption.
Provides a large coverage area.
Double arm alternatives offer flexibility to accommodate the needs of the operating teams for multiple work configurations.
Its modular construction minimizes downtime in the OR during inspection and service.
The non-ageing Teflon gas hose provided is long lasting and maintenance free.